For the first time in Serbia, a racing spectacle awaits you!
Serbia Marathon Series will close the racing season on Sunday, November 17, 2019, by organizing 3 races on 5k , half and full marathon,  with a spectacular finish in the Belgrade Štark Arena. 
ALL RUNNERS ARE CHAMPIONS!
Each runner and every racer for us are champions. Every participant in the Serbia Marathon will have the opportunity to finish their race in the temple of Sports, Belgrade Stark Arena, the place where Serbian sports had its greatest achievements. Finish in the same place where Novak Djokovic, Ivana Španović, Serbian handball teams, Serbian volleyball teams, and Serbian water polo teams won gold medals and became champions.
After crossing the finish line, there will be a musical program and a big party for all the runners, but also for the faithful fans for whom the entrance is free!
CHOOSE YOUR STARTING PACKAGE
The package contains a start number with a chip, t-shirt, finishers medal, online diploma, food and drink after the race.
until 01 October price will be = 1800 RSD
from 02 October to 27 October the price will be = 2400 RSD
from 28 October to 06 November the price will be = 2800 RSD
SIGN UP WITH A TEAM FOR LESS!
If you register a group of 20 runners, you only pay 19 registration fees, and you get one for free. You can register your team HERE.
ROUTES
The route of all races is straight and located in New Belgrade. The START for both races is just in front of the Belgrade Štark Arena and the finish of races are in the actual Arena.
ACCOMMODATION
Serbia marathon`s partner this year is Hotel M.
Hotel M is located in one of the most beautiful and quiet parts of Belgrade, surrounded by greenery of the "Banjicki park". Hotel M has 180 modernly decorated rooms that feature superior comfort. Advantages of the hotel are the proximity of the airport and main roads, excellent connections with the city center, free wi fi , free hotel parking and a stay in a protected area natural environment.
Room equipement:
All rooms are equipped with air conditioning, safe, LCD TV, mini bar, coffee and tea set, Ironing set, hairdryer, as well as a bottle of water free.
Site: http://www.hotel-m.com/en/accommodation.php
REGULATIONS
The race is organized according to the highest standards and regulations of the European Athletics and the "Run for All" program.
About ORGANISER
The organiser of Serbia Marathon is the Athletic Federation of Serbia, an institution that has been developing stadium and out-of-stadium athletics (track and field) for 70 years.
HOW TO APPLY?
Click here and fill out the form!
Upon registration, you will receive an e-mail with a payment instruction.
Follow us on social networks Facebook and Instagram to get all our latest news!
NEW DATE FOR SERBIA MARATHON
The first Serbia Marathon gained even more value when it was awarded to the organization of the Balkan Championship in the Marathon, so this event will also be announced to competitors from 20 ABAF countries.
At the initiative of the Balkan Athletics Federation, because of the large number of marathons held in our region in October, and the desire to have as many marathoners as possible participate in the Balkan Championship, the new marathon run is scheduled two weeks later.
The Athletic Federation of Serbia has decided to extend the low package price of 1800 dinars for another two weeks, this news rejoiced all who did not arrive to sign up until September 15th
The first Serbia Marathon organized by the Athletic Federation of Serbia, with races at 5km and 21km, will be held on November 17, 2019 with a finish at Stark Arena.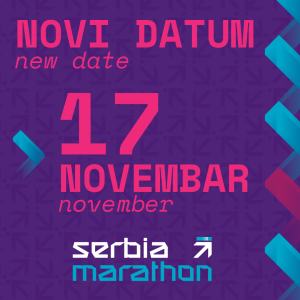 INFORMATION FOR RUNNERS
STARTING PACK – PICK UP
Runners can pick up starter packs at Athletic Hall (Bulevar Oslobođenja bb) on Thursday November 14 th, Friday November 15th and Saturday November 16 th   from 10.00am to 20.00 pm.
Runners who have signed up through a group can  pick up their packages from Friday 15/11/2019. from 3 pm at the Athletic Hall (Bulevar oslobođenja bb).
If you pick up a starter pack for someone else, you need to bring your ID (ID or passport) and provide the personal details of the participant for whom you are pick up the packet (name, date of birth, address).
Only competitors who are not from Belgrade and who already paid the registration fee in advance, can pick up their packages on Sunday 17/11/2019. from 7.00 am-08.30 am in the pre-start zone at STARK ARENA. PAYING ON SUNDAY WILL NOT BE POSSIBLE!
MINORS (under 18 years) – Their packages can be picked up by their parents / guardians or runners themselves with the consent of the parent (guardian need to be certified by a public notary).
PASTA PARTY
Pasta party will be on Saturday 16.11.2019. from 16:00pm to 19: 00pm in the Athletic Hall (Bul. Oslobodjenje bb).
All fans of sports, of running and healthy lifestyles, if you are not sign up for the first Comtrade Serbia Marathon, you will be able to do this on November 14th to 16th at the Athletic Hall (Bulevar Oslobodjenja bb) from 10 am to 20 pm. Price for starter pack will be 25 euros.